DEAR Program – My Dear Session @ Euro School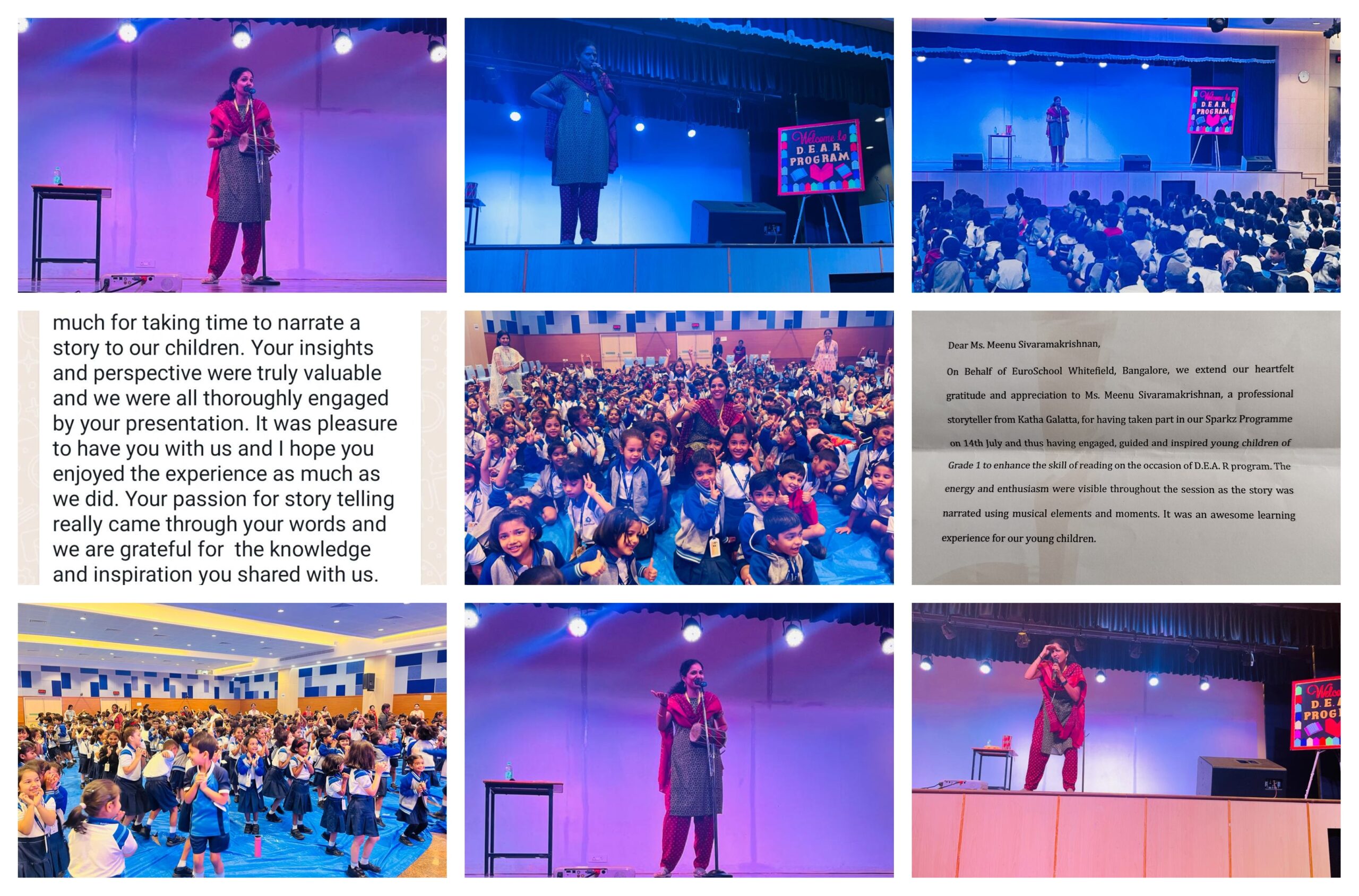 It was sometime in the end of June when I got a call from the Primary Co-Ordinator of Euro School, Whitefield.
"Hello Meenu! This is P. How are you?"
After the initial greetings were exchanged, she told me,
"Meenu, we have our Sparkz Program as part of which we want to invite you for a Storytelling Session for our Grade 1 students. Would you be available on the 14th of July?"
I quickly checked my calendar and gave my consent. I was thrilled to do a session for a neighborhood school. It was just a stone's throw from where I lived. All important details were discussed and it was all set.
D-Day arrived. It was a pleasant Friday morning. I got ready and was looking forward to the session. I reached the campus at 8.30 am and then taken to the Auditorium where the session was going to take place.
Hmmm… It was indeed quite a big place, air-conditioned and all. I have done in Indoor and Outdoor spaces, on different stages too. But this one felt a little different. Quickly I did the mike testing, placed my things etc and sat down in a chair. Soon, the students arrived, section-wise. Some were giggling, chatting while some others were still having their finger on the lip. 😊
They were around 400+ children who filled the auditorium along with teachers, co-ordinators, technicians who were now present. As the students settled, the host for the day began the program. I was then introduced and welcomed.
The stage was now mine. It was time for me to make the entry. There was silence. With a drum hanging from my shoulder, I walked to the mike and sang a phrase! It was basically a song that I had created which began with some syllables. As I stopped with the first phrase, I could see and hear the giggles filling the room, just as I had expected and wanted! 😊
Yes! It was indeed a positive start!
So I asked them, "Do you want to join me?"
And guess what, their "YESSSSSSSSSSSSSSSSSSSSSSSSSSSSSSSSSSSSSS!" reverberated throughout the auditorium! Not just that, the children could get most of the syllables right too!!!
As I continued with more syllable phrases followed by words along with my drum beats, children joined me with their claps. It is through the song that I asked them if they were ready to listen to a story and pat came the reply again,
"YESSSSSSSSSSSSSSSSSSSSSSSSSSSSSSSSSSSSSSSSSSSSSSSSSSSSS!"
Well, I knew that I just did not have children who were young and bubbly but also little ones who were listening well! And what more can a storyteller ask for???!!!
So, after a quick game, I dived into the story. It was my adaptation of an Appalachian folktale – or should I say that I just kept the framework same but changed/tweaked everything else 😊 Infact, it keeps changing based on the audience, the place I am telling and the reason why I am telling. Obviously, that is what a storyteller is supposed to do, right?!
Well, that day my intent was to convey that,
Friendship need not necessarily be with the same kind.
Helping and sharing should not be selective.
Finally, since my session was also part of DEAR (Drop Everything and Read) Program, I wanted to highlight the importance of reading too, through the story.
So, yes, my already adapted version went through more tweaks to take the form that I presented to them that day.
And being a music lover and a singer, I always like to weave in musical elements and movements to keep it participative, engaging and entertaining. No doubt, I could feel the energy and the positive vibes from the children and teachers as they joined in to become part of the story wherever needed, with enthusiasm. And it kept me going, wanting to only give them more!
Finally, the telling was done and we danced to a final tune.
As a storyteller, I felt the session went well and I was quite satisfied on the whole. Post the telling, the Vice-Principal of the school felicitated me with a token of appreciation.
Then, I gathered my things and packed into my bag. Just then I felt I should take a group pic with such a wonderful audience. So I requested the teacher there for the same.  But little did I know of what was going to happen next :O
As I got down the stage to join the students for the pic, I would have hardly taken 4 steps. The children in the front row got up and came running to me, each one trying to give me a hug. Soon, one by one, all the others too got up and joined in the group hug. It came to a point that I was finding it difficult to even stand properly and teachers had to come to pull them back. Children surrounded me from all directions. It was so overwhelming for me!  We talk about Aha! Oho! Wow! Moments and I have had my share of such moments too but this one … well… what can I say… I have no words… It was just beyond all that…!
They say, "Children are a form of God on Earth", so pure and so innocent. And when they express something, its directly from their heart – unadulterated and unassuming.
My Guru once told, "A Storyteller is remembered not by her name but by how she made them feel through the stories!".
Well, I think I made my audience feel happy, but I can say for sure that they did make me feel SPECIAL! Truly special! So, if this is not bliss, then what is???
And that's the magic only STORIES can do!!
Grateful to be a STORYTELLER – To Unleash Joy Through Stories!!! 😊